Expert Staten Island Air Conditioning Replacement
At HomeServe of Staten Island, we know that your home's air conditioning system plays a vital role in keeping your family cool and comfortable all summer long. While our licensed and certified technicians can often repair your A/C equipment, there are times when it makes more economic sense to replace your existing unit. Continuously investing money in an aging system can eventually become counterproductive. When it is time to consider replacing your air conditioning equipment, you can count on the dedicated professionals at HomeServe of Staten Island.
Is It Time To Replace Your Air Conditioning?
Constantly repairing an aging air conditioning unit can get expensive over the long run. Investing in a new A/C system has many benefits, including years of dependable service, better cooling and energy savings. If you are in need of professional A/C replacement and installation, the experts at HomeServe of Staten Island are ready to help. Since 1998, we have served over 90,000 homeowners with all of their HVAC needs. Our thousands and certified technicians can replace your A/C equipment quickly, efficiently and at a time that is convenient for your busy schedule.
Signs Your Air Conditioner Needs to be Replaced
The hot days and muggy nights of Staten Island can really be a challenge without air conditioning in your home. Here are some situations when it might be a good time to consider an air conditioning replacement and installation.
Consistent Breakdowns – If you are having to pay for repairs on a regular basis with your current A/C system, it may be time to consider a replacement. Investing in aging equipment may be more difficult to justify as time goes on.
Age – Most experts agree that with proper maintenance, most home air conditioning equipment will last between 10-15 years. As A/C units age, parts begin to wear out, seals spring leaks and compressors can lose their efficiency. If your air conditioning system is reaching the end of its life span, it could be a good time to proactively look at a new unit.
Energy Savings – Modern air conditioning equipment is much more energy efficient than models from the past. Installing a new A/C system will save a lot of money in energy costs over a period of years.
Obsolete Freon – Older A/C units normally ran on R22 refrigerant, which is currently being phased out. As the supply of this coolant dwindles, its price will only start to increase. This will make it more expensive to operate aging equipment. Investing in an A/C system that utilizes the current R410A coolant will be much more cost effective.
Home Cooling Services
The experts at Homeserve of Staten Island are proud to offer these additional A/C services.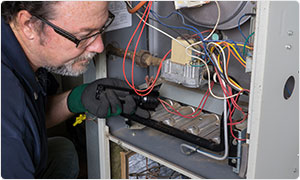 Maintenance
The key to a well-functioning air conditioning system is regular maintenance. Our team can provide you with maintenance plans, seasonal tune-ups, and more.
Learn More About Maintenance
Repair
If you ever have a problem with your air conditioner, HomeServe of Staten Island can provide quality repair services. Our emergency repair hotline is available 24/7.
Learn More About Repair