Professional Air Conditioning Maintenance & Inspection
When the summer heat is upon us, there's never a good time for your A/C equipment to break down. We depend on our home's air conditioning to keep us cool and comfortable all season long, but because air conditioning systems are made up of many components and moving parts, sometimes breakdowns do happen.
Experts agree that regular maintenance is critical to getting years of dependable service from an air conditioning unit. A regular A/C maintenance program can greatly reduce the chance of a failure taking place when you least expect it. Regretfully, many homeowners don't think much about their air conditioning equipment until it suddenly stops working.
The licensed and certified professionals at HomeServe of Staten Island have designed our air conditioning maintenance services to help keep your A/C equipment running at top performance. With our air conditioning maintenance program, you will stay comfortable no matter what kind of weather the dog days of summer bring.
Home Cooling Services
The team at HomeServe of Staten is proud to offer these A/C services.
Repair
If your air conditioning system stops working, you can count on HomeServe of Staten Island to help. We offer complete air conditioning repair services, and our emergency repair hotline is available 24/7.
Learn More About Repair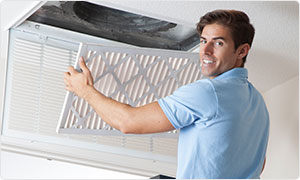 Replacement
When the time comes to replace your air conditioning system, you can count on the professionals at HomeServe of Staten Island to provide you with quality A/C installation services.
Learn More About Replacement